For reasons yet unknown, a traveling nurse recently assaulted one of his co-workers at a New Jersey hospital. Thirty-one-year-old Nicholas Pagano, RN, was working under contract at Hackensack University Medical Center when he struck a female employee with a wrench in the break room and then set her on fire with an "ignitable device."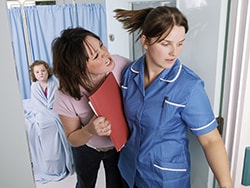 Fleeing the scene, Pagano was pursued by the authorities for attempted murder, aggravated arson, and related charges. According to multiple news reports, his body was later found inside his car on February 8, 1 day after the attack. His death was ruled a suicide from a self-inflicted gunshot wound.
"Violence will not be tolerated in our network," Hackensack Meridian Health said in a statement. "Our doctors, nurses, and teams are true heroes and deserve our respect. The safety of our patients and our team members is Hackensack Meridian Health's highest priority."
This incidence represents one of the more extreme cases of healthcare-related violence, since it was an RN who violently attacked a co-worker. Physical as well as verbal worker-to-worker assaults regularly occur in healthcare settings, although most incidents involve patients, family members, or persons other than those employed at a facility, according to Medscape's new report, Nurses Under Attack: Abuse in the Workplace.
And while nurses have long experienced workplace violence in hospitals and other types of facilities, the COVID-19 pandemic appears to have caused the violence to escalate.
While these are isolated incidents, some data show that there has been an increase in physical assaults. At Cox Medical Center in Branson, Missouri, for example, attacks became so rampant that panic buttons were purchased for the nurses and healthcare workers who were part of the inpatient and emergency department teams.
Cox Medical Center says that the uptick in violence against their healthcare workers has primarily been a result of the pandemic. From 2019 to 2020, the total events there increased from 94 to 162; total assaults increased from 40 to 123; total injuries, from 17 to 78; and assaults leading to injury, from 42.5% to 63%.
"Violence has always been underreported, and the perception is that violence is now escalating," Lisa Stand, JD, senior policy advisor with the American Nursing Association Policy and Government Affairs, told Medscape Medical News. "We are getting reports, and I don't disagree that it may be increasing."
The pandemic has created a confluence of factors that set the stage for an uptick in violence, she said. "There is increasing frustration with the healthcare system, with all of the restrictions imposed by the pandemic. The person in scrubs is on the receiving end of aggression."
In addition, staffing shortages led to more nurses being isolated on the floor, and dealing with an aggressive patient or family member can set the stage for violence, Stand noted. Incidents are also being more publicized, she said.
Violence within the healthcare sector was well documented before the pandemic, both in the US and globally. According to the Occupational Safety and Health Administration (OSHA), about 75% of the 25,000
Culture of Abuse
Episodes of workplace violence of all categories have been grossly underreported. Only 30% of nurses reported incidents of workplace violence in a 2018 report by the Joint Commission
Underreporting is due, in part, to thinking that violence is "part of the job," and worker-to-worker verbal abuse in healthcare has been accepted all too often, leading to nurses and others thinking that they must also accept verbal abuse from patients, the report states.
There is a culture of accepting abuse, explained Stand. "There may be a feeling that nothing meaningful is going to be done if it is reported or that the reporting nurse is going to be tangled up in red tape — and we are working hard to change that culture."
Anna Dermenchyan, MSN, RN, director of the Department of Medicine Quality at UCLA Health in Los Angeles, California, agrees that the culture needs to change.
"The culture of nursing is not to report it," said Dermenchyan, who formerly served as a director on board of directors of the American Association of Critical-Care Nurses. "It is generally aggression on the part of the patient or family member and not necessarily due to mental instability."
Although there is a perception that most violence occurs in the emergency department or on psych units, it most often happens in a patient's room, she explained. "It happens in the room and on regular floors, places where nurses may be alone with the patient and in close proximity."
Dermenchyan emphasized that abuse existed "but just wasn't well captured, as reporting is not mandated."
Escalation During the Pandemic
There is evidence that the number of violent incidents has increased since the pandemic first began in the US in February 2019. A 2021 workplace health and safety survey published by the American Association of Occupational Health Nurses reported that 44% of RNs experienced physical violence at least once during the period from February and May/June 2020. The attacks were initiated by patients, family members, or visitors, and more than two thirds of the 373 respondents encountered verbal abuse at least once.
Overall, the survey results showed that RNs who provided direct care for patients with COVID-19 experienced more violence than those who did not care for these patients. The survey also found that the violence was underreported ― 1 in 10 nurses felt that reporting the incident was more difficult during the pandemic.
Statistics from a September 2021 survey by the National Nurses Union (NNU) found that hospital RNs overall reported an increase in workplace violence. About 31% said that they faced a small or significant increase in workplace violence, up from 22% in NNU's previous March 2021 survey. Nurses attributed the rising workplace violence to factors that included decreased staffing levels, changes in the patient population, and fewer visitor restrictions.
"Since the beginning of the pandemic, patients tend to come in sicker and sicker and perhaps not being assured that they will be cared for," said Zenei Triunfo-Cortez, RN, a member of NNU's Council of Presidents. "Staffing is poor, patients are more frustrated, and the nurse is the easiest and most accessible target to take it out on."
The situation isn't going to improve with respect to staffing, she said. "Hospitals are not being proactive and taking actions to hire more staff."
Dermenchyan noted that nurses are the ones who are most affected because they provide the most care. "Nurses became surrogate family for patients in some cases because family members couldn't visit," she said. "And so much has happened with the pandemic — there is so much unresolved grief."
Curbing Violence
Currently, no federal statute mandates protection from workplace violence, but a silver lining to the pandemic is that it has highlighted this issue, and in the wake of increasing violence, it has led to change.
One major step forward is it that for the first time, the Joint Commission will examine hospital safety under new violence prevention standards. In a June 2021 publication about the new standard, the Joint Commission wrote, "Exposure to workplace violence can impair effective patient care and lead to psychological distress, job dissatisfaction, absenteeism, high turnover, and higher costs."
The new standard requires hospitals to have workplace-focused violence prevention programs, including reporting systems, data review, incident follow-up, and employee training. To expand on the new requirements, it offers a compendium of tools and resources to guide hospitals toward meeting the standards. "It will be part of inspections this year, and will be part of the accreditation process," said Stand. "We are really hopeful that it will address some of the problems and [lead to] more meaningful reporting."
In another effort to improve and increase reporting, OSHA launched a program called the Injury Tracking Application, which is a secure website where employers are required to submit their workplace injury and illness information, including acute injuries or illnesses, lost time from work, restricted work activity, and job transfer.
California has had a workplace violence prevention law in place since 2014 that requires California healthcare employers to ensure a safe environment for patients and nurses by preventing workplace violence before it happens. More states need to have laws like the one in California, explained Triunfo-Cortez. "The California law requires comprehensive workplace violence prevention plan at all times in all units, services, and operations."
The State of Wisconsin also has new legislation that would make it a felony to threaten a healthcare worker or members of their family. The bill was signed by Gov. Tony Evers into law Wednesday.
On a federal level, HR1195 ― Workplace Violence Prevention for Health Care and Social Service Workers Act ― has passed the House and is currently pending in the Senate.
The bill requires "certain employers in the health care and social service sectors," among similar employers, "to develop and implement a comprehensive workplace violence prevention plan…to protect health care workers, social service workers, and other personnel from workplace violence."
Stand said, "If the Senate passes the bill, we intend to be involved and make sure nurses are heard and empowered. And we want this to apply in every setting and not just hospitals."
For more news, follow Medscape on Facebook, Twitter, Instagram, and YouTube.
Source: Read Full Article