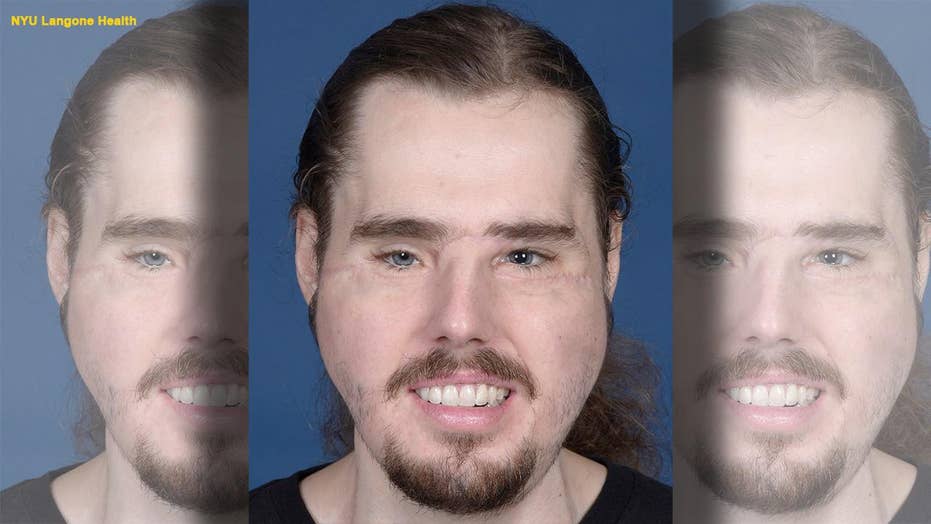 Face transplant recipient shows remarkable progress
Nearly 11 months after having a 25-hour face transplant operation, 26-year-old Cameron Underwood from California has made unbelievable progress.
More than two years after Cameron Underwood attempted to end his life, the 26-year-old has gotten a second chance, which was partly made possible by his face transplant team at New York University Langone Medical Center.
Underwood, who grew up in Yuba City, Calif., struggled with depression and attempted to cope with alcohol, according to People magazine. In June 2016, he attempted to kill himself with a gunshot under his chin, but he survived and spent the next five weeks heavily sedated. In total, he spent five months in the hospital as he recovered from the bullet wound, which cost him his nose, jaw and teeth, and badly damaged his eye sockets.
Underwood underwent several reconstructive surgeries, but he struggled to communicate and eat, and would wear a bandanna or mask to cover his injuries while in public. His mom, Bev Bailey-Potter, saw an article in People about NYU's face transplant program, and decided to take action. In March 2017, Underwood and Bailey-Potter traveled to New York to meet with Dr. Eduardo Rodriguez, who took him on as a patient.
MOM BATTLING CANCER WHILE PREGNANT WITH TWINS FINDS BONE MARROW DONOR MATCH
"When we first met Cameron, we were confident we could improve his appearance and, more importantly, his function and quality of life," Rodriguez said, in a news release provided by NYU. "Advances in medical technology allow us to more rapidly evaluate donors and recipients for face transplant, and to perform surgery more safely and efficiently."
In January, Underwood received the call that a donor match had become available. His donor, Will Fisher, was a 23-year-old writer and filmmaker in New York City who had also battled mental illness for several years.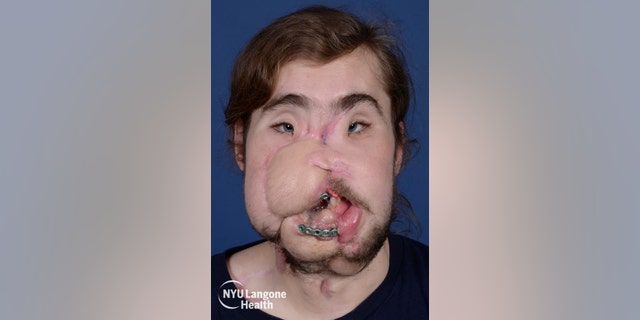 Underwood, pictured before the transplant, had been wearing a mask or bandanna in public to cover his injuries.
(Courtesy Mary Spano and Eduardo D. Rodriguez, MD, DDS/Hansjörg Wyss Department of Plastic Surgery at NYU Langone Health)
"Will and his family made an incredible sacrifice to give back to me what had been lost," Underwood said. "I will never forget that. I'm also eternally thankful to Dr. Rodriguez and his face transplant team. My family and I could not have made this journey without them."
OVERDOSES, SUICIDES PUSH DOWN US LIFE EXPECTANCY
Nearly 11 months after the 25-hour operation, Underwood, who is Rodriguez's third face transplant patient, has shown no signs of rejection. He has monthly follow-up appoints at NYU, and has continued with physical, occupational and speech therapy. He went sky diving, and has purchased a truck that he is working to restore.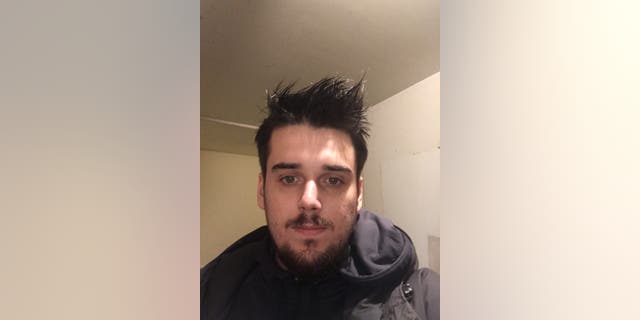 Will Fisher, Underwood's donor, was a 23-year-old aspiring writer and filmmaker.
(Courtesy Fisher Family)
"We hope my experience inspires others who have severe facial injuries to have hope, as I was inspired by others who came before me," Underwood said. "The journey hasn't been easy, but it's been well worth it."
More than 40 face transplants have been conducted worldwide since 2005, with Underwood's marking the first to occur in such a short period of time post-injury. Underwood's surgery, which was made possible by a team of over 100 medical professionals, also marks the most technologically advanced transplant as it included the addition of 3D-printed surgical planning.
Source: Read Full Article