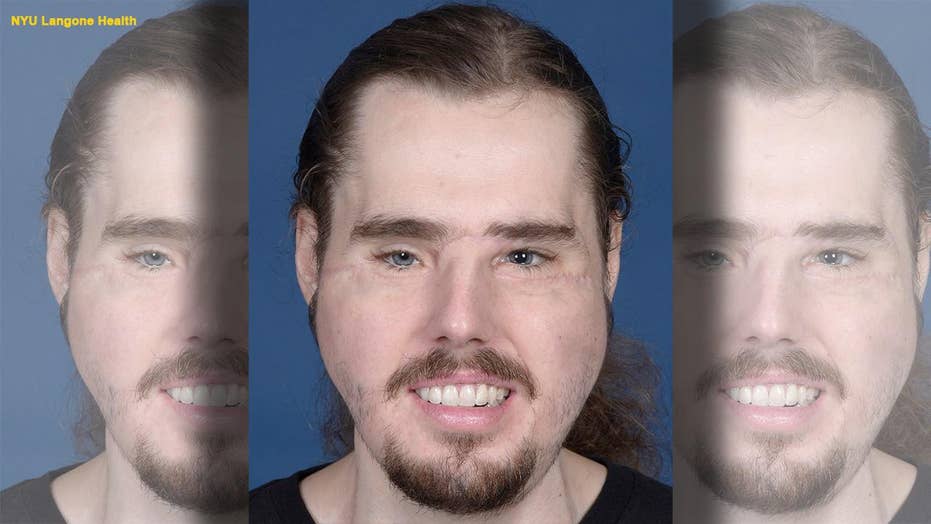 Face transplant recipient shows remarkable progress
Nearly 11 months after having a 25-hour face transplant operation, 26-year-old Cameron Underwood from California has made unbelievable progress.
A face transplant that gave Cameron Underwood — a 26-year-old California native who attempted to kill himself two years ago – a new lease on life cost more than a million dollars.
To date, the procedure — it was performed by the face transplant team at  New York University Langone Medical Center —  has cost $1.5 million, the medical center told the New York Post.
FACE TRANSPLANT RECIPIENT SHOWS REMARKABLE PROGRESS 11 MONTHS AFTER SURGERY
Nearly one-third was covered by insurance, according to the publication. A grant from the U.S. Department of Defense and "support from NYU Langone" provided additional funding, which the Post reported went primarily toward "clinical care and research associated with the transplant."
In 2016, Underwood attempted to kill himself with a gunshot under his chin. But the 26-year-old survived, spending the next five weeks heavily sedated. In total, he spent five months in the hospital as he recovered from the bullet wound, which cost him his nose, jaw, and teeth, and badly damaged his eye sockets.
Following several reconstructive operations, Underwood underwent the face transplant procedure earlier this year. The man's donor was New York-based Will Fisher, a 23-year-old writer and filmmaker.
MOM BATTLING CANCER WHILE PREGNANT WITH TWINS FINDS BONE MARROW DONOR MATCH
Underwood made headlines earlier this week when he showed his face 11 months after the procedure.
"We hope my experience inspires others who have severe facial injuries to have hope, as I was inspired by others who came before me," Underwood said. "The journey hasn't been easy, but it's been well worth it."
Fox News' Alexandria Hein contributed to this report.
Source: Read Full Article